Monday 9th May 2022
It feels as if spring has truly arrived now, with sunny days and warmer temperatures!
Whether you enjoyed some time off to relax over Easter or were busy keeping the children entertained during their school holiday, there should always be time to fit in a visit to the Club. It might only be for 9 holes, hitting some practice shots on the range or a short gym workout – either way it is vital for your wellbeing as well as your general good health to get some exercise and fresh air regularly.
As you come to the Club you can't help but notice the new Strike Shack driving range is now open! Strike Shack is an amazing facility offering interactive games to suit all ages plus the chance to play iconic golf courses virtually, and with complimentary club hire you don't even have to bring your own clubs (although obviously you can use your own!). With food and drink available from 10am - 8pm, in-bay seating and heating, it's a fantastic way to practice your game or just relax with friends and have some fun.
The other major development at the Club is the long-awaited bunker development programme. The first phase has already started (three weeks earlier than expected). Whilst there will be some obvious disruption to play during the major construction work, there should always be 18 holes available. After the first phase is complete the new areas will need time for the grass to establish, grow and strengthen before it can come in to play, but it will be well worth the wait. Phases 2 & 3 will take place over the next two years. Check out pictures and reports on IG.
Don't forget to keep an eye on our website and social media channels to stay updated about all the social events we have planned over the next few months.
All Change!
At the beginning of April the captains held their drive-in event where the annual handing over of captaincies took place. Colin Davies & Val Thompson along with Bob Wood (Senior Captain) have certainly had a challenging time, but have done an amazing job raising over £8,000 for Dementia UK – thank you for all your hard work (now you can put your feet up!).
Our new captains are Paul Woodcock & Fiona Gillespie, and George Hill (Senior Captain) took over the reins as well. With Rob Green & Nicky Penny as their vice captains, they will be continuing the strong fundraising tradition in 2022. Your ongoing support of all the charity events is so very much appreciated and I hope you will continue in the coming year.
Captain's Drive Out/In – Sunday 3rd April
The day of the Captain's Drive Out/In dawned with a sharp frost but most importantly dry conditions, allowing this event to be completed for the first time in three years.
After the traditional initial drives by outgoing 2019/20 captains Jenny Leech and Steve Potts, outgoing 2020/22 Club Captain Colin Davies and Seniors Captain Bob Wood (unfortunately 20/22 Ladies' Captain Val Thompson was unable to drive due to injury) and incoming Lady Captain Fiona Gillespie, Senior Captain George Hill and myself Paul Woodcock as Club Captain joined 84 golfers as they enjoyed their last opportunity to play the course before the commencement of the bunker project.
After play and a light lunch there was a thought-provoking address from Rachel and Rebecca from Terrible Titties and Other Bitties, the Captain's charity for the forthcoming 12 months – see below for more details.
The competition was set up as a team event with best two stableford scores on each hole and nearest the pin for ladies on the 15th and men on the 4th. Scoring was close, with seven teams coming in with scores in the 90s. The top two were:
John Morgan, Jonathan Banks, Peter Burgess and John Stoltz with 96 points
Peter Lewis, Rob Green, Stephen Duckhouse and Ian Haywood with 94 points
Nearest the pin was won by Linda Peckett and Chester Guillot. Hopefully an enjoyable day for all that took part which raised approximately £900 for the charity.
New Charity - Terrible Titties & Other Bitties
When considering which charity to nominate for support for the next year I was looking for a local organisation where the sum raised would make a real difference to their work.
Life has a strange way of steering you in a particular direction – when donating to charity people are often influenced by events and causes they feel strongly about and this is how I came across Terrible Titties and Other Bitties (TTOB). In the middle of the first Covid lockdown my partner's daughter, Laura, was diagnosed with breast cancer. Even though the NHS were overwhelmed with the pandemic the treatment received was exceptional, but the news was devastating for the whole family.
TTOB was set up in 2017 by two ladies who found themselves going through the same treatment 'journey' and finding that whilst the NHS was great at covering the bigger picture, they didn't feel they could trouble them with small issues. They started as an informal 'buddy' network where they could discuss issues with each other but soon found there were many other ladies in the same position. In 2019 they formalised the group, becoming a registered charity primarily offering support to women going through breast cancer treatment through Staffordshire hospitals. Currently the charity is supporting over 100 ladies going through the journey.
Services have grown to include:
24/7 helpline for any issues
Buddy network offering one-to-one interaction
Referral to counsellors
Emotional support
Monthly gatherings
In addition, all ladies undergoing treatment receive a pack of useful items put together from their experiences of undergoing chemotherapy and other treatments.
TTOB has been a great help to Laura, particularly in putting her in touch with other young women going through the same journey where they could discuss all aspects, not just the clinical aspect that is the focus of the NHS.
I hope you will agree that this is a very worthwhile cause and I look forward to your support at the various events throughout the year.
Finally if you or anybody you know are going through this journey and need to discuss anything, no matter how small, please do not hesitate to contact the charity on 07366 923048 or terribletitties@gmail.com. Further information is available at terribletitties.co.uk or on Facebook and Instagram.
Paul Woodcock, Captain

Course Report
As we come into the golfing season, the greenkeeping team are working flat out to get everything prepared and in place for the months ahead. At the start of the month we spiked and top dressed the greens. We did this just before rain was forecast to help wash the sand in so we weren't constantly on the greens with machines trying to brush it in. The greens look a little pale at the moment but that is due to regular frosts. Now it appears to be warming up we've been able to put down a granular fertiliser to give them a boost (and help with the colour). We plan to start rolling twice a week now to improve the speed and trueness, similar to the work we did at the end of last season.
Last year we only top dressed twice in the year; this year we plan to do it more often but it won't be a heavy spread so should not interrupt play. The new tees should be in play by mid-May and we are already working on them to get them down to the correct height in readiness.
All change part 2!
May we introduce you to our Captains/Vice Captains for 2022:
Paul Woodcock – Men's Captain
Firstly, I have to say I was shocked and surprised when Colin Davies asked me to be his Vice-Captain over two years ago with a view to becoming Club Captain some 12 months later. We all know what happened in March 2020, so my apprenticeship has been somewhat longer than anticipated!
My introduction to golf was at the age of 13 when, instead of the usual choice of athletics or cricket in the summer term, an enlightened games master arranged for the local golf professional to give us lessons resulting in me spending summer afternoons trying to knock balls between the rugby posts. Incidentally that golf pro sold me my first club (a 1 iron!) for the princely sum of 10 shillings (that's 50p to anybody under 50!). I still have this club if anybody wants to try a shot – though be warned technology has moved on greatly since this was manufactured. Unfortunately, a budding golf career was curtailed once employment involving many relocations around the UK and family commitments restricted time on the course to the odd corporate and society round.
Move forward some 20 years and with the children older and the family settled in Lichfield I was able to restart, and joined what was then Seedy Mill in 1999. Since joining there have been many changes including the addition of the health club, extensive improvements to the course and most recently the upgrade to the driving range. With the bunker improvement project moving forward and the excellent work Ed and his team are putting in there are exciting times ahead.
I very much look forward to meeting as many of you as possible either on the golf course or in the clubhouse, whether at a social event or just enjoying a well-earned drink after a round of golf.
Fiona Gillespie – Ladies' Captain
I attended agricultural college and worked in sales, marketing and technical roles with (amongst others) Unilever, the National Institute for Research in Dairying and finally United Molasses, part of Tate & Lyle, latterly as the UK Managing Director. I have been a health member at Lichfield for many years, but in 2014 I attended one of Ian's golf lessons and was hooked! I enjoy all aspects of golf - the exercise, the competitive nature and the friendships.
George Hill – Seniors' Captain
First and foremost I would like to say that any member of LGCC aged 55 and over is eligible to put their name forward via the IG system with your availability to play in Senior Competitions or join us in the senior league games home or away at some lovely venues around Staffordshire - just check date and details on the IG system and put your availability!
Secondly, I'm looking forward to the challenge and meeting as many of you golfers as possible. We all like to win first and foremost, but sometimes it's about the enjoyment of the day, or going somewhere else, meeting new people and having a good time.
I am often seen on the course and in the club, so feel free to join me and discuss anything concerning the seniors' section.
George will be joined by his new Vice Captain Pete Wallis. Pete joined the club in 2015 and has played with the Seniors for four years. As well as looking forward to the challenge, Pete is looking forward to meeting many more new (and old) friends.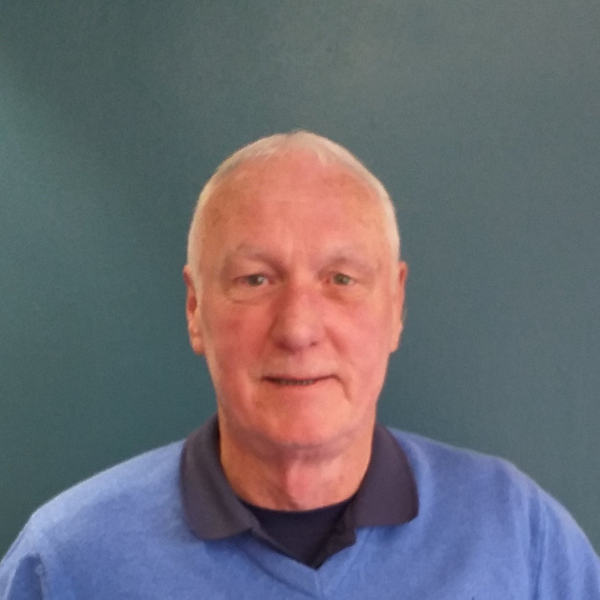 Nicky Penny – Ladies' Vice Captain
I've been in love with the game of golf since I borrowed a club and went to Ian's group lesson about eight years ago. I really enjoy playing with the ladies on a Wednesday morning and enjoy the challenge of away days, opens and competitions at other clubs. It's a frustrating game but I try hard and socialise well.
I am retired now but previously worked in education. I trained as a secondary teacher but later specialised in special needs, mental health and whole school improvement. As a team player, I am looking forward to working with others for the good of everyone at Lichfield.
Rob Green – Men's Vice Captain
I was born and raised in Newcastle upon Tyne. Having moved south with my job in the early 90s, I've lived in the Lichfield area ever since. I'm married to Louise, with two grown sons and a brand new grandchild!
I was introduced to the game of golf by my father in my early teens and played until my early 20s - however, to my eternal regret, I gave the game up for almost 30 years until I picked up a club again and joined LGCC in 2008.
I really enjoy my games of golf (despite not always playing as well as I would like), as well as the great atmosphere around the club. I am looking forward to being more involved over the next few years.
Captain's Event – a Winner!
As the 2020/21 Seniors' Captain at Lichfield, I had the privilege of playing along with two great gentlemen from other clubs in the group, and very much enjoyed the time to share best practices whilst attempting to play a challenging course in excellent condition at Castle Royle in March this year. Thank goodness who ever organised the competition allowed full handicaps!
I have to admit that when I handed my card with 34 points, the last thing I expected was to receive any prize – no one was more shocked when my name was called out as Seniors' runner up! The pair of engraved glasses were a super prize that not only will remind me of a great day overall but will be much admired when I get the opportunity to give them a run out with a suitably fine single malt!
Bob Wood
Golfers for Ukraine
The Ladies took part in a charity competition and raffle to raise funds for UNICEF through Golfers for Ukraine. The event raised a splendid £270, with contributions to the raffle from many members on the day. Thank you to all who took part and enabling some support to a very worthy cause.
Bake Off Update
In last month's newsletter we mentioned the latest bake off, organised by Nicky Penny (with Val Orme in support!). We received lots of feedback asking for more information about the cakes and winners, so here goes!
There were 16 different entries and the final fundraising figure was £230 for Dementia UK. The winner was Jill Anson with her chocolate tiffin. Second place went to Barb Sanderson with her lemon and poppyseed ring and third was Karen Thomson with her wonderful carrot cake. Mmmmm…. Thanks to everyone who helped to make this event such a success.
Strike Shack Stars!
For those who haven't yet been down to the new driving range I would like to introduce the new team who will be helping you play the games, assisting with your food and drink orders and cooking for you.
Your Strike Shack Range Lead Host is Mike Amos, and your Food & Beverage Team Lead is Ricky Jackson, previously F&B Supervisor. Other hosts are Jo Jennings, Mike McGann, Matt Wood & H Greensmith. Louis Jowett is our other Chef at the Strike Shack Bar and Katy Pulman and Annabelle Shaw are new Strike Shack F&B Assistants.
Remember, you don't need to be a member to use Strike Shack so why not grab some friends or family members and come and give it a try?